You may be wondering how to trade BitCoin analysis and similar crypto currencies. There are countless crypto currency strategies you can use to trade BitCoin for profit, however you must be aware of a very important characteristic of the crypto crypto currency market, it follows supply and demand as any other financial market, crypto currencies and crypto trading are not exceptions.
BTC makes a retracement to demand level
Pools of supply and demand imbalances are created in all BitCoin timeframes, you must know what these imbalances look like and what they mean before you decide to take a trade on BitCoin. The BitCoin technical analysis video below is doing a long term analysis of the monthly timeframe, intraday and shorter term positions are not explained, those are different monsters.
As mentioned in a BitCoin forecast September 2019 post, supply and demand trading analysis told us a bigger correction to $4,000 was expected on BitCoin crypto currency. I got some emails from people telling me a supply and demand strategy cannot be used to trade Crypto Currencies. Well, the market speaks by itself. Nobody believed price would drop from $20,000 and we warned everyone.
As per the monthly chart, BitCoin crypto currency created a very strong demand imbalance level around $4,722 last October 2018. It took a year for price to retrace to that imbalance but when it did, price reacted to it very strongly. Our BitCoin prediction was correct with laser beam accuracy when we spoke about that monthly demand level a few months ago. Those following us in the supply and demand trading community could take advantage of this long term analysis and position on BitCoin crypto currency.
BitCoin crypto currency chart trading analysis today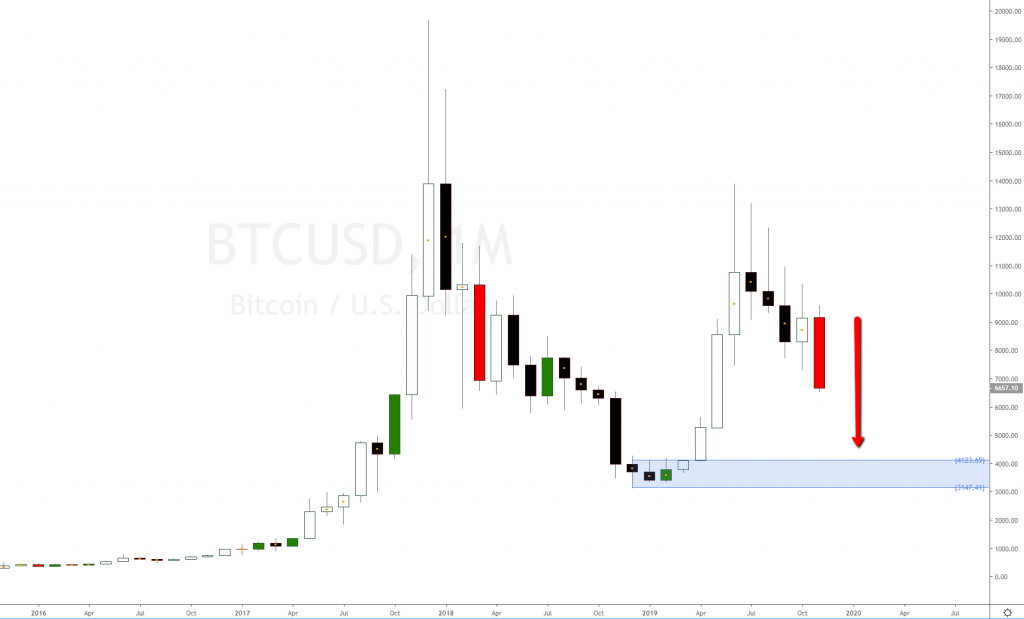 BitCoin has been rallying from that monthly demand level since last January 2019 recreating a very similar price action to October 2018 where the demand level on the monthly timeframe was originated. Supply and demand strategy principles are very clear and to the point about impulses. After a very strong impulse (bullish or bearish) we should not be thinking to trade in the same direction. In BitCoin monthly chart we can see a very strong bullish impulse and strong signs of rejection for the last two months, July and August 2019.
In the previous impulse when BitCoin price was trading around $20,000 all the media and news were talking about BitCoin, buy BitCoin, it's the currency of the future. Wait a second! All the media was telling you to buy BitCoin at $20,000 after such a strong rally? Come on! You should be thinking of selling BitCoin crypto for profit, no more buying, we expected price to drop heavily as it did. BitCoin is in a similar scenario right now, we should be thinking of buying BitCoin long term because we are expected a much bigger correction.
BitCoin crypto currency forecast and prediction 2019
Our supply and demand forecast and prediction for BitCoin crypto currency is explained in this analysis and also in the video technical analysis below. If you are a short term trader or scalping BitCoin for profit then it's a different story and analysis. For long term positions, now it's not the type to buy BitCoin crypto currency.
If you want to learn how to trade BitCoin and other Crypto Currencies using our proprietary supply and demand strategy, join our trading course. You will be welcome to join our trading community.
Watch BitCoin crypto currency video technical analysis below