Palantir Technologies Inc. (PLTR) is trying to pull back to a demand imbalance on the monthly timeframe located around $11.42 per share. Palantir stock price has been stalling and stagnating for a few months since last February 2021 after the stock surged to all-time highs at almost $45 per share.
It's likely that you've already heard the news that Palantir (PLTR) just reported a strong Q2 2021. It is a fact that there will probably be plenty of coverage of those results, including the tremendous growth and increased cash flow outlook. Do we really need to know about Palantir stock forecast by taking into consideration the second-quarter results?
As supply and demand traders we are waiting for Palantir stock price to drop further or trade new imbalances if the stock starts to rally very strongly.
Palantir stock forecast 2021
See the monthly timeframe Palantir stock forecast below. You will be able to see the imbalance right at the origin of the move.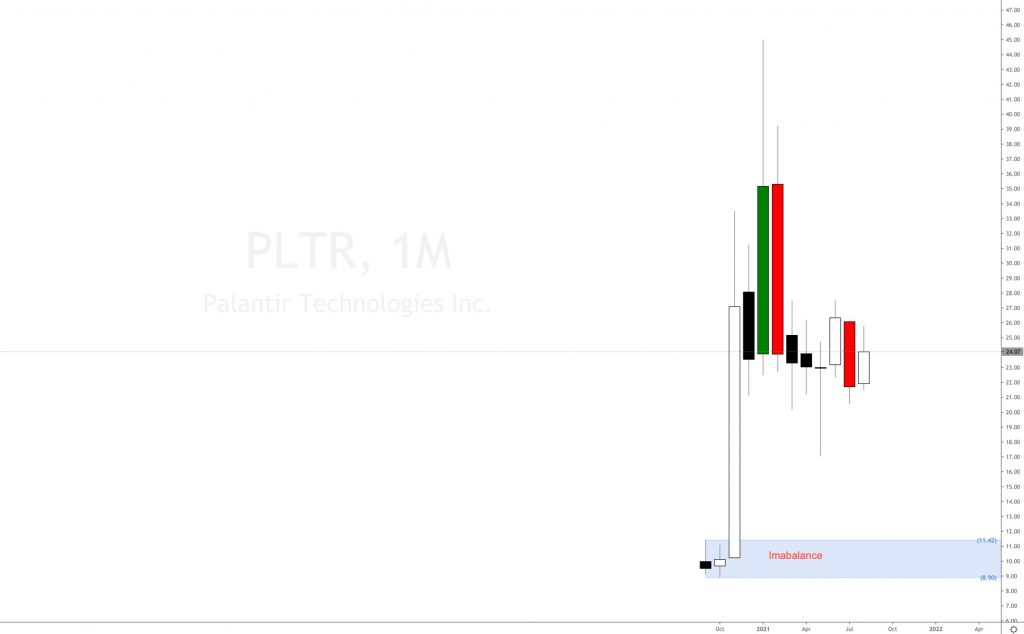 Palantir technologies Inc (PLTR) stock analysis
As supply and demand traders, we do not need to pay attention to the news, fundamentals or any earnings reports. Once a big timeframe imbalance has gained control, earnings do just the opposite and react strongly to those imbalances. Why is it that you see positive earnings and then the underlying stock drops like a rock, or a negative earnings announcement and the stock rallies like a rocket out of control? You are probably missing the fact that there are big imbalances gaining control.
Unless you are doing very short term trading and scalping, you should not worry about fundamentals or earnings announcements on Palantir technologies Inc (PLTR)
You can use these imbalances to plan your trades in lower timeframes. Trading is just waiting for the right trigger points and scenarios to present themselves, this game has got a name and it's called the waiting game. We need to patiently wait for the correct scenarios and setups to happen and wait for the price to pull back or dip into the price levels we want to trade, in our case these price levels are made of supply and demand imbalances.
If you want to learn how to trade using our supply and demand trading strategy, join our supply and demand stock trading course.