Tesla, Inc. designs, develops, manufactures, leases, and sells electric vehicles, and energy generation and storage systems in the United States, China, Netherlands, Norway, and internationally. The company operates in two segments, Automotive; and Energy Generation and Storage.
Tesla stock forecast
Analysts were saying that the coronavirus pandemic is going to hurt Tesla Inc (NASDAQ). They say that Tesla's vehicle deliveries will be negatively impacted by the pandemic in 2020. Ahead of the outbreak, the analyst said he was modelling robust deliveries as consumers continued to flock to the Model S and Model X, as well as the Model 3.
Despite past production delays, parts shortages, labor cost overruns and other difficulties, Tesla (TSLA) was on track for improved performance in 2020 and beyond due to its dominant position in the electric vehicle industry.
Well, the coronavirus outbreak probably will hurt Tesla as well as thousand of others stocks in the whole world. In the meantime, supply and demand is playing its game with new strong imbalance in the monthly timeframe after breaking all time high.
TSLA share prediction
As explained in Tesla Inc (TSLA) video analysis and forecast at the end of this analysis, we were talking about that huge imbalance around $361.20 per share a couple of months about in Set and Forget's trading community, the video shows the before and after analysis months before price got there. See Tesla Inc (TSLA) longer term analysis in the attachment below.
Tesla stock chart analysis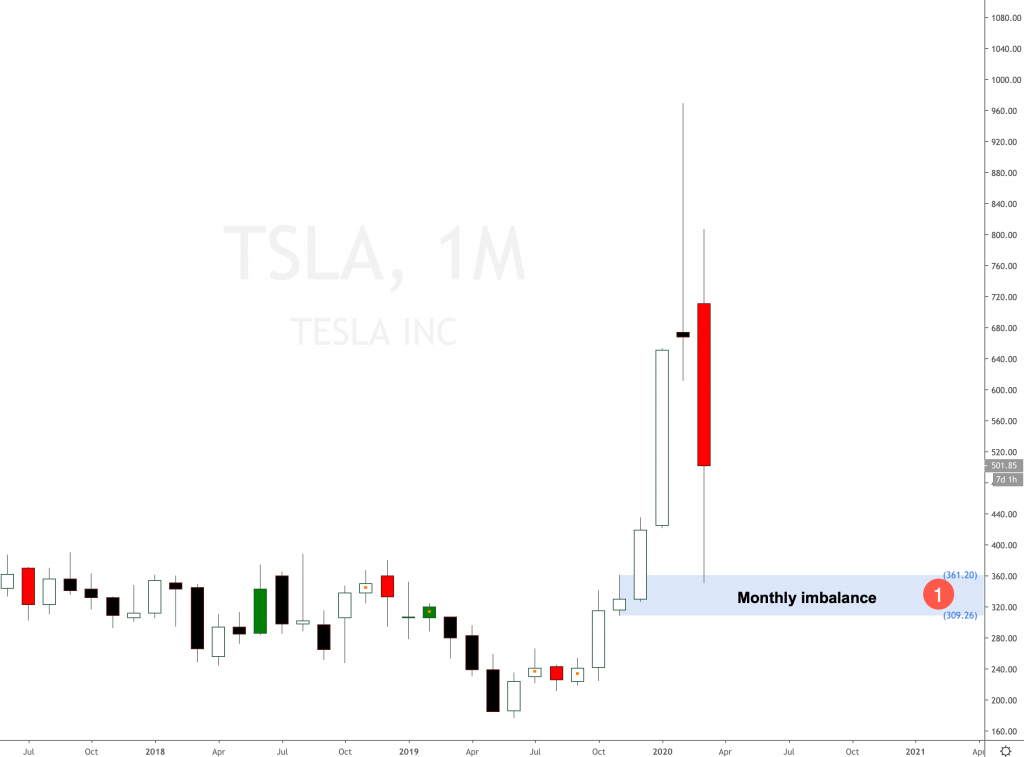 Using our supply and demand stock strategy we can assess the bullish bias on Tesla's longer-term prospects. As per supply and demand, we saw downside in Tesla (TSLA) stock to the $350-$400 price area right where the huge monthly imbalance were located, which would offer an attractive buying opportunity for long-term investors.
Tesla stock imbalance created
It goes without saying what has happened to Tesla (TSLA) stock after it reached that huge imbalance on the monthly timeframe around $361.20. Take a look at the screenshot below taken in Set and Forget's trading community where Tesla long opportunity was mentioned.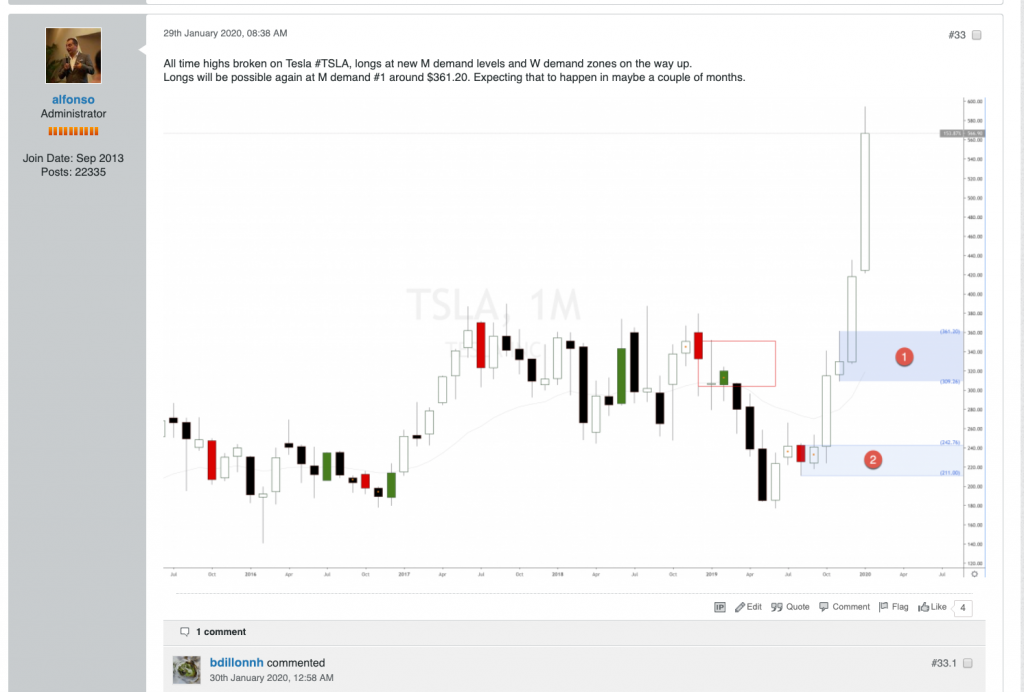 Tesla stock chart video analysis