Learn to trade. No promises. Results
Join hundreds a traders of a worldwide growing trading community of like minded supply and demand traders all trading with the same rules set.
You will never feel alone again. We all
trade a mechanical and subjective set of rules
. You will no longer cloud your mind with multiple strategies, we are all trading supply and demand imbalances. These rules and patterns can be spotted over and over again since the markets are governed by the forces of supply and demand. Becoming a member grants you
exclusive access to the core trading strategy, hundreds of hours of archived webinars, hot lists with high probability trade opportunities, webinars, coaching, and weekly video analysis
with a forecast for the next week on stocks, cryptos, indexes and Forex.
Watch a short 10 minutes video to see the community inside.
Have you been searching for the right way to profit from the markets but haven't found it yet?
Learn how to trade Stocks, Forex and Cryptocurrencies like Bitcoin, Ethereum & Altcoins using the forces the move the markets.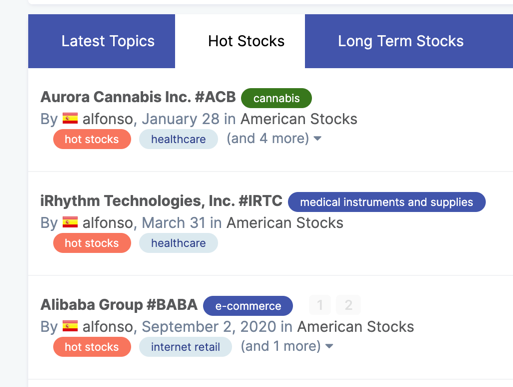 Hot lists! High odds trade setups
We trade all marketsStocks, Cryptocurrencies, Forex, Commodities, and futures; There is a wide range of assets to help you spot specific trade setups every week. We don't believe in spending hours a day in a chat room talking about potential trade setups and banal things about life resulting in no trading at all. Trading is boring, applying a set of mechanical rules is also boring. Trading is not a game, we must treat it for what it is. It is a way of making a living, it is a business and should be treated as such.

As a member of the trading community you will benefit from daily and weekly analysisposted by myself and other members, where you will see trade setups shared before they actually happen. Where you will see actual trade set ups work and play out real time following the trading methodolody.

You can also use our Stocks analysis to trade options. Buying and selling options at supply and demand imbalances where professional traders and filling their orders and hedging their positions.
Stocks, Cryptos and Forex Trading Ideas
Have senior traders guide you through various market conditions and scenarios and help you identify potential trade ideas as trades are planned throughout the week. There are hundreds of Stocks, Forex and Cryptocurrency channels where you will see updates on new imbalances and potential trade ideas in the making. If you are in doubt, ask and you will have your analysis corrected.

Search and learn from past trades. A myriad of analysis and trades, an enormous pool and encyclopedia of supply and demand trade scenarios that will change the way you look at the markets. Browsing these trade ideas a few minutes every day will boost your understanding of the markets a thousand fold. Learn. Interact. Trade. Our live trading channels room offers coaching, Trade Ideas, and real-time market insights.Subscribe to any live channel and when you want answers and we shall provide unparalleled support.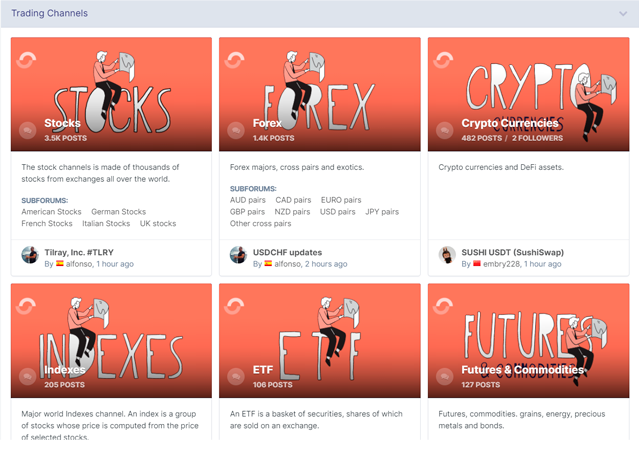 Benefits of joining Set and Forget trading community
Learn the skills to build a professional trader's mindset.
Learn to become the exception, learn to become profitable.
Be part of a worldwide growing community of like minded supply and demand traders all trading with the same rule set, no more clouding your mind with different strategies.
Obtain unlimited support from numerous senior members who are willing to help you the same way they were helped by others when they started.
Learn if your top down analysis is correct by sharing your analysis and asking senior members for feedback
Sharing your analysis and interacting with other traders will help you develop your skills and confidence in the markets.
Benefit from live trade setups posted every day and week. The community is not a signal service but there are many trading opportunities shared by members that follow the rules of supply and demand.
Access to exclusive tools only available to members, many of these tools have been developed by other members. This is what a community is all about, sharing our knowledge and work with others.
Participate in yearly free meetups where we will do live analysis in the morning and outdoor activities for the rest of the day in key cities around the world.
Unlimited access to a large resource of archived video content with over 300 + hours of useful and detailed videos
Develop a winning mindset and learn how to manage your money like a professional with the support of other fellow traders.
Grow not only as a trader but also as a human being. Learn skills on how to manage your emotions and execute a daily routine that will put you on the right path.
Trading Community Testimonials
Members show their opinions about our Set and Forget strategy, community and forum.
A big thank you to Mr. Alfonso M, for starting this forum, and generously sharing his methods of trading. You have given something very very valuable to this community. Appreciate !!!

It has been a great opportunity to learn. Honestly without this , I would not have continued my trading.

It certainly has helped me understand, the high odds of taking a trade, and I see hope for my trading career in future, due to this forum.

A word of appreciation for senior members of this forum too. They are great support and inspiration.

Best Regards,

Prakash

A worldwide community of traders with a great mentor/teacher and traders who are always ready and willing to help clear out doubts that many of us have. Although not so active in the community, I have learned a lot and I'm still in my testing stages. The strategy speaks for itself and If you do the homework(testing) you will understand and believe in it and yourself. I was lost in the world of indicators and blind trading, lost money and now I'm on the journey to disciplined and profitable trading with the help of you all. This is very visible in the testing I am doing. For me it has been no regrets! I would like to say a huge THANK YOU! to our captain Alfonso and to all of you the members of this lovely community.

Kaulu

My English is not that good to express my self about alfonso and the community (nametaker , ardenode , fortunateson , gr8guy , neelam_sharma and a lot more people which if I want to right their names so it will be very big list.

the main thanks is to Alfonso for his effort to build the community and be responsible always to the members with quick response , he is not just great teacher and trader but great great human being , when I was broken and lost , he helped me a lot and let me come back to life. the community is getting bigger and bigger , so there should be reasons which great teacher Alfonso and professional trades to help each other. Mo

I have been studying books, whitepapers and testing for several years.....Meanwhile I was successful, too, statistically in very positive trend. But I have never new where price is, where it is heading, what is general opinion......rather confused all the time. So scalping and hedging was only solution......scary walking on a wild side.....till now

Alfonso teaches and shows where to look for confirmation, when to be wisely predictive and how to manage positions. Having a clue of certain moment imporatnce in time is something that wise men know, others not....that is Alfonso's teaching consequence in trading. After meeting some other guys from community last month together with Alfonso, I am not surprised any more.....positive attitude is present in their minds most of the time - it is contagious Really amazed how I am steadily growing in understanding certain area lately.... Thanks again Peter

Mere words cannot express my deepest appreciation for Alfonso and the community he has created. In my opinion, I consider Alfonso a genius and a visionary, and a truly humble man who puts the community before himself. His dedication and commitment are unsurpassed as is the wealth of information he has developed. He has a proven methodology and rule set that has been taught and is being replicated and executed by many successful traders. In addition, the community offers its contributions and knowledge along the journey of learning the supply and demand trade.

Again, I want to thank you, Alfonso, and the entire community, for your encouragement in trading and in life and for keeping me on the path.

Joe

I would like to thank Alfonso for providing a well run Positive community Before i joined set & Forget i knew supply and demand was the way to go but there was no way for me to define it , i found trading so frustrating and my trading was Emotional driven, i was basically in the dark. The set and Forget methodology provided a definite structure and ruleset. Alfonso has taken the time to define the rules and Nunces and they work , to listen and watch him trade in the Webinars , he is the "perfect storm" . I honestly dont know where this man finds the time to answer peoples queries and address their doubts while trading and running the community but he always does. He is fair and Honest and i consider myself lucky to be a part of the community. But as we say there is no Luck in trading only hard work.

I would also mention there are some senior members that are also great traders and give freely of their time to help others. Thanks to Alfonso and to the other senior members for the help and Encouragement they have given me over the last year, it has been a pleasure to be a member.

Cheers Steve

I'm grateful to Alfonso for his continued support in my journey to continuously improve my trading. He is a great man, someone who believes in offering value to the world and someone who genuinely wants others to succeed. The methodology laid out in the Set and Forget community based around supply and demand trading is a fantastic way to interpret the markets and provides a high probability trading edge. It is by far superior to anything else I have encountered in my quest to find an edge in the markets. The process for learning this methodology is also well set out, structured and geared towards developing someone's trading skills over a long period as opposed to providing a "quick fix" or promises to "get rich quick".

The community is thriving and continues to grow. Numerous other members offer great support to others who are learning. The example set by Alfonso is followed by others and we truly have a trading community.

Thank you Alfonso

Luciano

Thanks Alfonso. You are a gentleman of great integrity. You have a very deep understanding of the Supply and Demand methodology and a phenomenal ability to explain clearly the rule set and the different setups. It's a pleasure to be a part of this community - its welcoming and has a strong sense of camaraderie. You are consistent in your mantra: 'Don't believe what I say, don't believe what I do - test it for yourselves'. This is key: else we never get to build the belief in our ability to execute and manage our edge.

To any non member that may read this: Alfonso is a class act. But, he cannot do the work for you. You must persevere and learn through your mistakes for a considerable period of time. You must stay on the bus and do not give into the temptation to 'switch' to another strategy or try to merge strategies. Give it time and absolute focus and build the belief and trust in yourself and in your strategy. Alfonso will stay with you every step of the way, but you must do the work. Its there for you. How much do you want it?

Cheers, Hugh

I loved this community from the beginning I could tell. If I cannot become profitable here, then I will most likely will never be. Alfonso has installed a great work ethic to my trading I practice on Forex tester 2 every day for hours.Read watch the videos over and over again you guys are like my heroes because I see how far you have come especially nick. My wish is to become more involved, but I'm not confident .I struggle with explaining trades in a clear way I'm the voyeur of the forum. I read every post every day and feel I know you all.To trade like Alfonso would be like a dream come true a master of his trade .I have before me the best teacher the best forum and a great bunch of guys. With patience, practice, and some fortune that I can put it all together. I look forward to the day when I'm helping others as you all do. a big thanks to every one on here!! keep it up. You are changing my life bit by bit,I see it happening which is so amazing. Happy? never been happier.

All the best Steve

I consider my self a lucky person ...it took me more than 3 years to find some one expert , knowledgeable , he knows what is teaching ; supports the material that he is providing with all kinds and means; when ever he sees it is necessary ....so much to talk about that .....on the other hand our best friend Alfonso will never ignore any of us;his intentions are sincere and i trust him ....so many other individuals assumes they are experts in this field ; to me at least the ones i met or came across their promotional teaching videos...they can never be compared to alfonso ; despite of that they helped just very little ; but the did not build any conference in my self about their materials as alfonso did; with alfonso i learned so much and i believe and a follower of his best supply and demand strategy and i am great full for that ....i hope he continues what he is doing for us.....and starting with my self and i am asking all senior and expert members to support each others more and more specially new members like me and all other new once too and i must say i am proud to know them and all the work and support they give.... i am saying this because we want to keep this community alive and continues the purpose of its existence .....thank you very much alfonso and all of you members

Cheers Rawda

I am forever grateful to Alfonso for what he has done for me and my trading over the years. I have been part of this community since the beginning and admire greatly how it has grown leaps and bounds to what it is today. This community is full of experienced traders, all who have a special interest in becoming better, profitable and more consistent traders. To trade along side them only makes me sharpen my own blades. Pressure creates diamonds!

I appreciate everyone of you, especially the Fonz

Cheers, Nick

Grateful to Alfonso for giving the opportunity to participate in this community, with so many like-minded people working hard actively for their dreams.

I must say this is the best investment I've done so far for my own trading career. The lessons here are very well organised & structured in a way that it makes learning how to trade much more efficient. Not to mention the enormous number of videos to watch & learn at our own pace, and the highly supportive forum to get any doubts cleared.

Just like many persistent traders out there, I've been trading financial products with all sorts of strategies for over 10 years. Had some earlier success position trading in stocks using fundamental & technical analysis. But doing this as a full-time career trading shorter time frame required much different skills & strategies to succeed. Something I came to realize only in the last few years. Fortunately, I stumbled across Alfonso's free thread in Forex Factory while searching for ways to improve my understanding of Supply & Demand. Upon reading the first monster post there, I was amazed at how methodical Alfonso teaches S&D. Now having joined set-and-forget for more than 3 months, and having access to all the learning materials here, I've noticed a big improvement in my trading result & consistency. Though more effort is still needed to achieve what I want, I'm progressing well at a rate I've never experience before. Really looking forward to how much more I can progress as a trader.

Thank you Alfonso & everyone for making this possible, Ivan

I have been trading supply and demand part-time for a few years now. it was just a hobby for me, but i always had one issue, how can i take trades after a certain type of verification? something that gives me an indication that my levels are correct. candlestick patterns are good and everything but you have to be monitoring price action to catch it and when you're trying to trade 30 instruments at the same time, that becomes impossible. So in my search i came across Mr. Alfonso.

You need to understand something Mr./Mrs. Reader, if you want to be a technical trader, you MUST understand supply and demand. it is CRUCIAL and Alfonso has a very methodical system. He has given me the missing pieces of my puzzle and HOPEFULLY if all goes as planned, i hope to make trading my full-time job in the coming months.

please don't misunderstand, trading is NOT easy and you will NOT get it over night. it takes a lot of patience and practice, but once you cross that threshold of understanding, your life will become much easier. So thank you Alfonso, i hope to meet you at one of your future events and thank you in person.

Jamshid

Thank you for this opportunity Alfonso.

To all fellow traders and future community members, This community, and Alfonso in particular, has been for me not only a place to learn Supply and Demand, but to grow as a human being. Weekly and sometimes daily Alfonso reminds us of the important things in life. He not only gives us the rules to trade with, but shows us monthly that it is possible and profitable. Giving me a hope to hold onto and reach for, for my financial freedom. He also reminds us that trading is boring, and should be, we need to get out and have our fun and live our lifes - unzipped, in RAW, uncompressed, to the fullest, everyday. (more…)

I found Set and Forget after searching the internet for some training on Supply and Demand. I have been trading for several years now, and could not grasp the concept of Support and Resistance, why were prices touching a certain level then reversing, or sometimes blasting right through?? (more…)
Are you ready to Join now in our trading community?
You can trade now like a profesional trader with the Set and Forget method and rules.